Kruse Ultrasonic 100 watt Head $2,999.00
a Jens Kruse/Bruce Bouillet collaboration
Introducing the ULTRASONIC
The ULTRASONIC pushes the boundaries of tube amp tone to a new level of versatility, clarity and transparency to allow players of any skill level and music genre to advance to a higher plateau of artistic expression.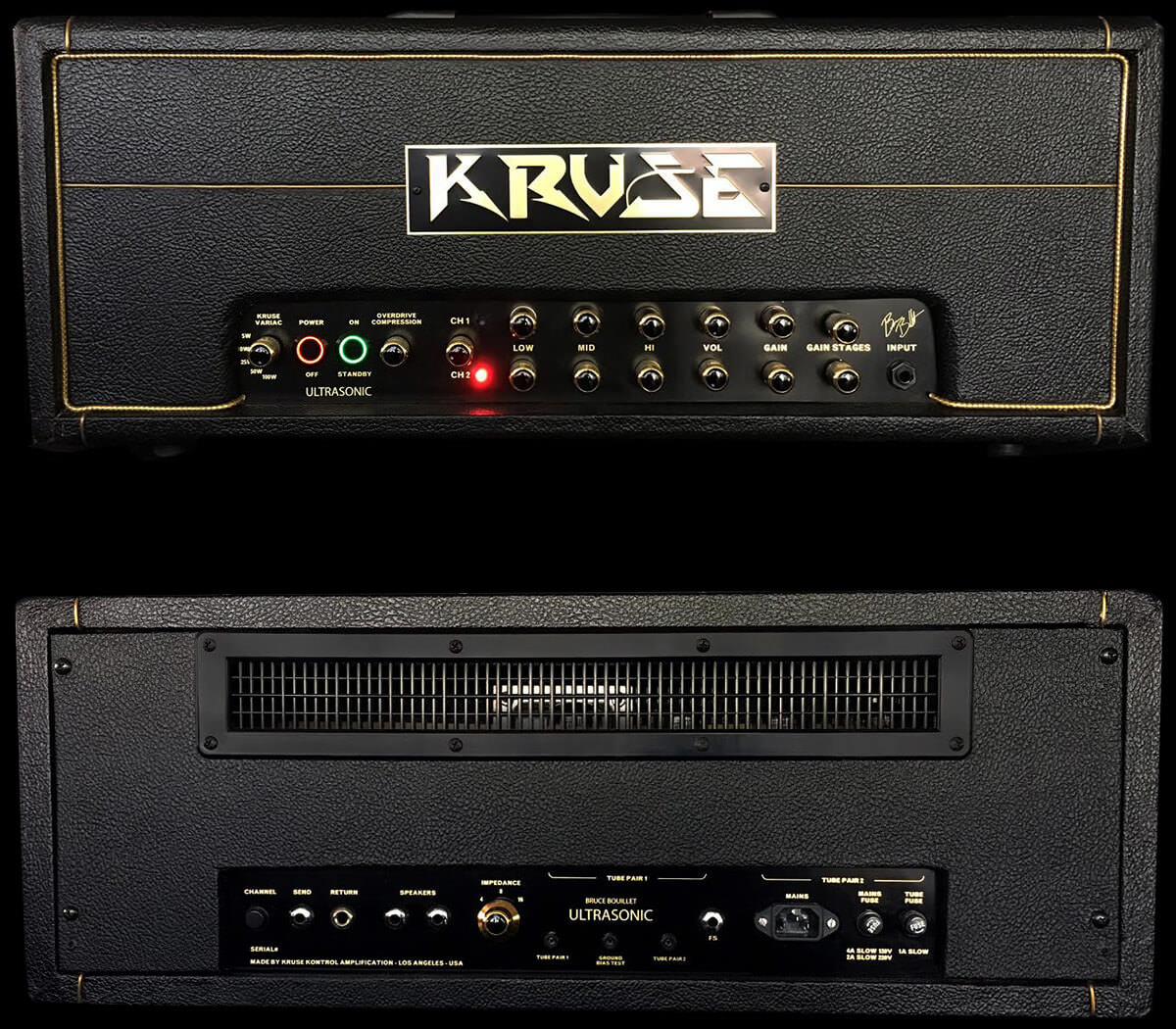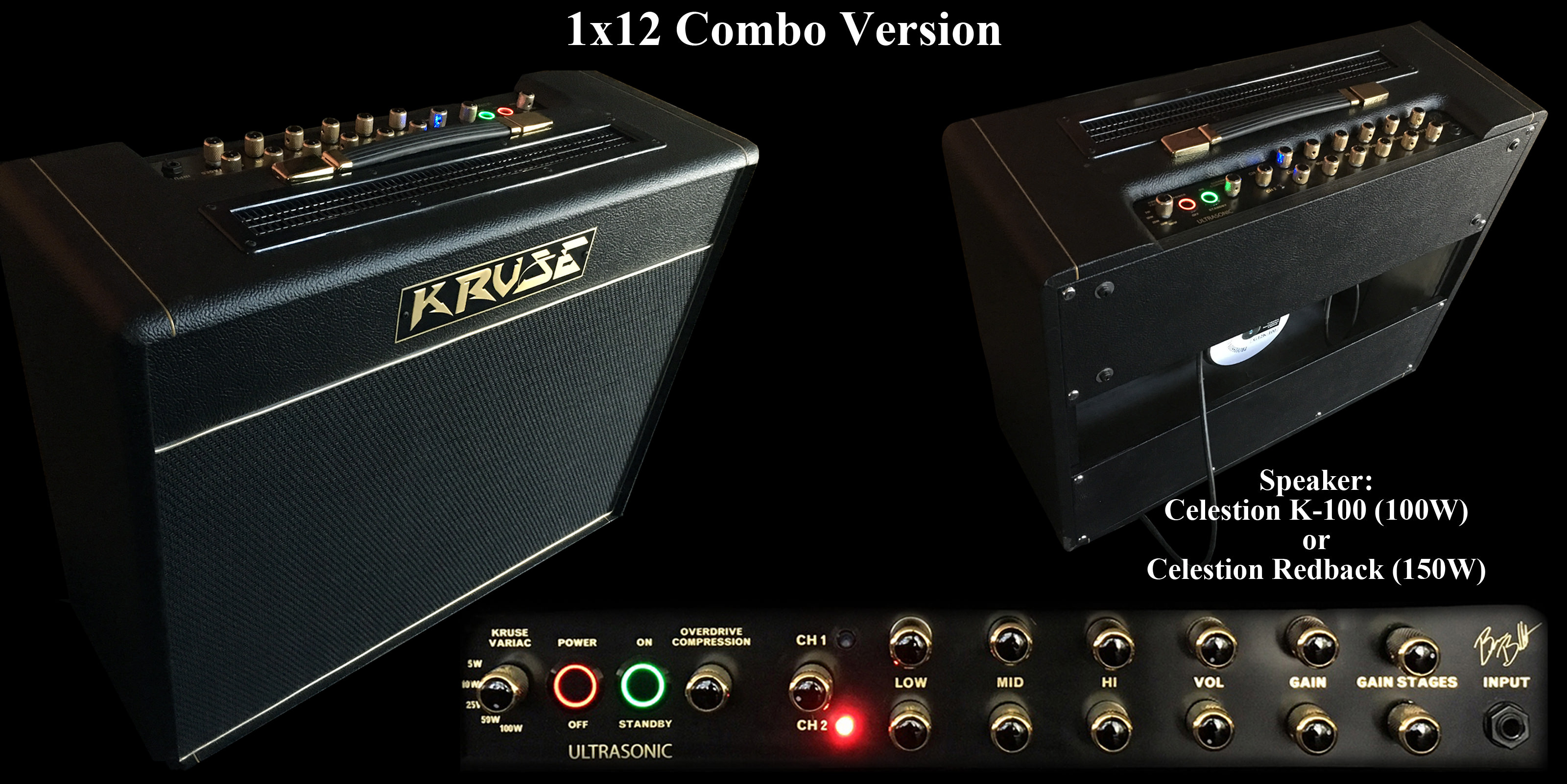 Features at a Glance:
100% Point-to-point, hand-wired using only the finest components
Pushes Modern + Vintage Tones to a new level
2 channels with independent Gain, Volume, Highs, Mids, Bass controls
Channel 1 can be shaped via 5 selectable Gain Stages from ultra clean to fat crunch.
Channel 2 can be shaped via 5 selectable Gain Stages from Classic Rock Crunch to Modern High Gain
New EQ design allows great variety of tone shaping
"Overdrive Compression" switch selects 5 stages of natural tube compression, from modern punch to vintage sag.
Lossless and fully by-passable serial effect loop, perfect for pedals or rack mount effect units
Tubes: 3x 12ax7 and 4x EL34, 100W max. output
External bias points and external bias trimmer allow anyone to swap and bias power tubes easily
Built-in Variac selects 5 output levels: 100W-50W-25W-10W-5W
High quality brass knobs
Overdrive Compression:
Via 5-way rotary switch the tube compression grade (how the tubes overdrive) can be selected.
Choose from a saggy soft compression (Vintage) to a very open, direct and punchy response (Modern).
This feature allows for more sag than any tube rectifier.
EQ:
The radical new EQ design departs from traditional tone stacks to enable very responsive tone shaping throughout the entire frequency range while the amp never loses its tonal character.
Volume:
The channel volume control for each channel lets users create the desired volume balance between the 2 channels.
Gain Stages (ch1):
A 5-way rotary switch allows for 5 selectable Gain Stages ranging from ultra clean, to bluesy break up, to fat crunch, while each gain stage can be fine-tuned with the Gain control.

KRUSE Variac:
Built in VARIAC: 100W-50W-25W-10W-5W
Unlike attenuators this Variac is a pure power tube voltage regulator, no guitar signal is affected.
Via 5-way rotary switch the Variac not only selects the output power, but also makes the power tubes saturate at lower volumes to achieve a fat tone at manageable volume levels. The lower the wattage selected the cooler the tubes run and thus tube life is prolonged.
Amp Master Volume:
Master volume gives you control of the amp's overall volume.
Gain:
The Gain control fine-tunes the amount of gain for each of the 5 select-able channel gain stages.
Gain Stages (ch2):
A 5-way rotary switch allows for 5 select-able Gain Stages ranging from Classic Rock crunch all the way to modern high gain, while each gain stage can be fine-tuned with the Gain control.
Channel Switch:
Manually switch between
CH 1 and CH 2.
Speakers:
Connect your speaker cabinets here.
Impedance:
Set your impedance here.
Foot Switch:
Connect your foot switch here for channel switching.
Fuse:
Main Fuse 4A Slow 120V
2A Slow 220V

Serial Effect Loop:
Completely lossless loop is 100% bypassed when not in use.
Works great with pedals and rack mount effect units.
Put the amp on Standby and use the Ultrasonic 100 as a PREAMP to connect to external power amps by using the SEND jack. No cabinet needs to be connected.
External Bias Points:
By using a simple multi-meter anyone can install and bias new power tubes. No need to take out the chassis from the head cabinet. Simply remove the back panel to access the external bias pot.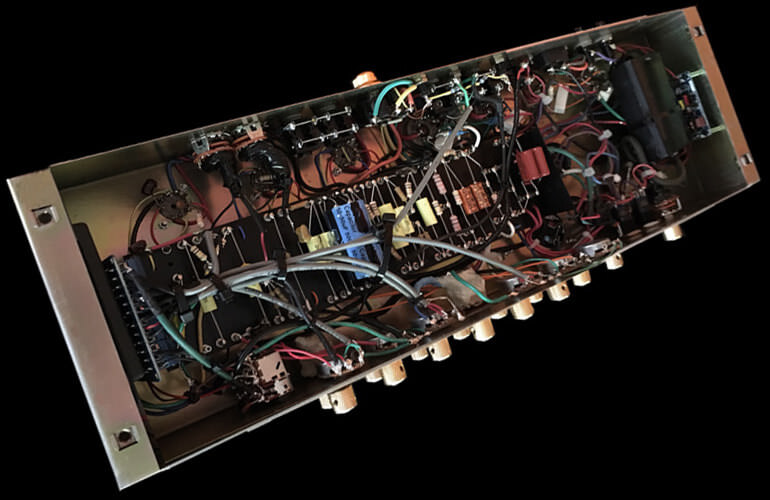 Hand Wired Design
This point-to-point, hand-wired design uses the highest quality, military grade components and wiring, plus massive vintage style transformers to fully unleash the amp's rich harmonic content while ensuring very quiet background noise even at high gain levels.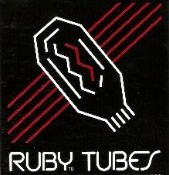 KRUSE Amps use RUBY TUBES!
Kruse Amps feature the highest quality tubes, hand-selected by Ruby Tubes. The high grade, low noise and very musical sounding 12ax7ac5 HG+ preamp tubes perfectly balance the ULTRASONIC's capabilities of top notch vintage and modern tones. The EL34-BHT power tubes were chosen for their warm, 3-dimensional character while offering extreme longevity.
The Ultrasonic Collaboration:
Jens' latest creation, the Kruse" ULTRASONIC" amplifier, a Bruce Bouillet Signature Amp, is the result of a close collaborating with Grammy winning artist Bruce Bouillet . The new design pushes the boundaries of Vintage and Modern tube amp tone to a new level of clarity and transparency to allow players of any skill level and music genre to advance to a higher plateau of artistic expression.
Meeting through a mutual friend in 2015, Jens Kruse and Bruce Bouillet began work on a signature amp that could meet the most demanding studio and live conditions.
Many in studio tests were performed along the way, as well as multiple amp shoot outs pitting the "Ultrasonic"against the titans of the industry.
"The result is years of research and design, built with the highest quality parts. This amp speaks for itself!"
- Bruce Bouillet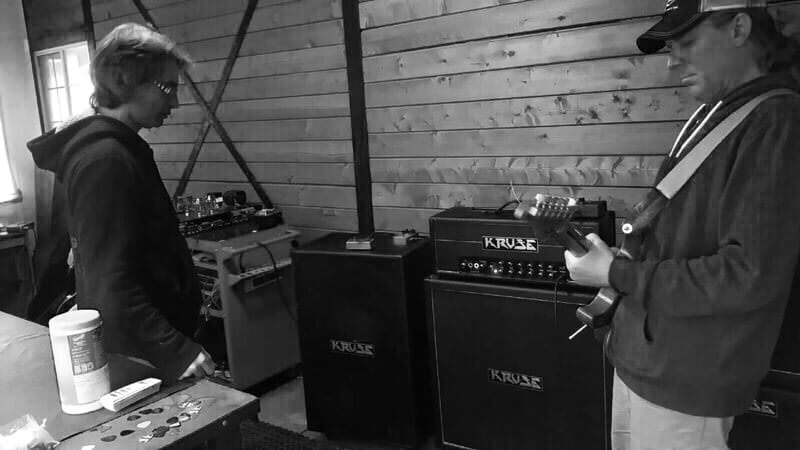 Testimonials:
By Frank P.:
"In a word, the Kruse Ultrasonic is incredible! I have been able to achieve degrees of tonality and clarity from my guitars that I never have experienced before. The amp allows for an infinite range of tones through two channels with independent gain stages, a separate gain control, an overdrive compression function, and equalizer settings that are second to none. And all through a design that emphasizes simplicity in use. A tremendous piece of equipment for any player, regardless of the level of proficiency, who appreciates the majestic sounds that a guitar can produce."
By John G.:
"Hi Jens, the amp is amazing, been playing it every night. The cabinet is also amazing. The amp sounds just so thick and chewy and the sustain I'm getting is fantastic! Harmonics also jump out. Besides the great clean tones, it covers classic and modern tones very nicely. I give two huge thumbs up on your creation, Jens. Last night, played with the variac knob, turning it down to 10 watts, and raising the master, sweetness!
The 4x12 cabinet with Eminence CV-65s and CV-75s is a perfect match. It has some great low end thump, while maintaining string clarity.
With each channel having separate EQs and choices of five gain stages, not to mention an Overdrive/Compresssion setting and the Kruse Variac, you can get the amp ripping any way you like, and at any volume. And for those who prefer to do their own biasing, there are biasing ports on the back of the amp, so no need to remove the chassis. How cool is that?"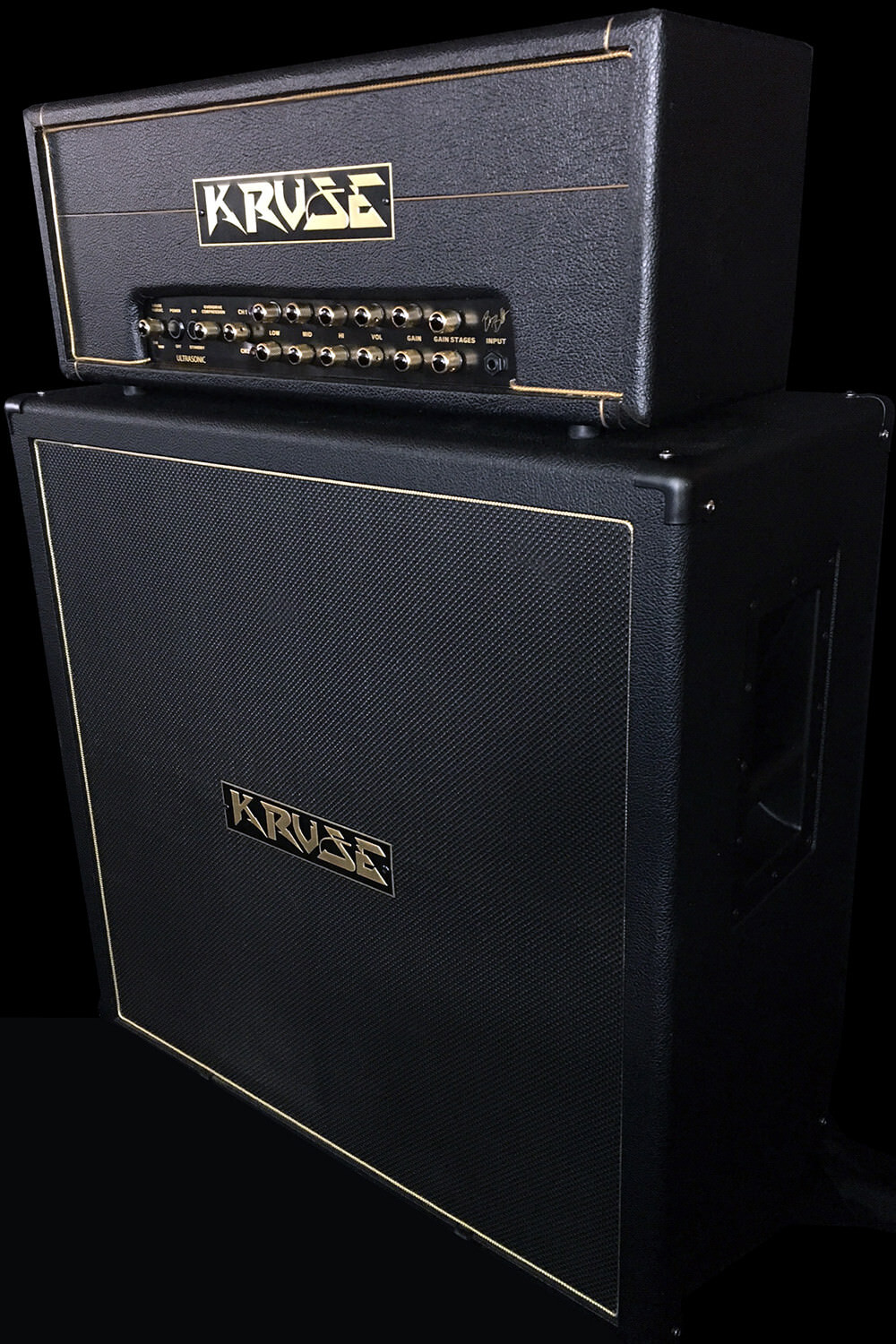 5 year Warranty:
KRUSE AMPLIFICATION warrants that the amplifier you have purchased shall be free of any defects in parts and workmanship if used under normal operating conditions for a period of five (5) years from the date of purchase, except that footswitches, cabinets, handles and cabinet hardware are warranted for a period of one (1) year from date of purchase and vacuum tubes are warranted for a period of ninety (90) days from date of purchase. This warranty shall run to the original purchaser.
IMPORTANT: PLEASE RETAIN YOUR SALES RECEIPT AS IT IS YOUR PROOF OF PURCHASE COVERING YOUR LIMITED WARRANTY.
Defective products that qualify for coverage under this warranty will be repaired or replaced, (at manufacturer's discretion) without charge.
USA: To receive warranty service in the U.S., return the complete product to KRUSE KONTROL AMPLIFICATION, with proof of purchase, during the applicable warranty period.
TRANSPORTATION COSTS ARE NOT INCLUDED IN THIS LIMITED WARRANTY. Any repair or service performed by any person or entity other than KRUSE KONTROL AMPLIFICATION is not covered by this limited warranty. This limited warranty becomes void if the serial number on any product is defaced or removed, or the product has been damaged by alteration, misuse, accident, or neglect; or the product has been repaired or serviced by persons not authorized by KRUSE KONTROL AMPLIFICATION.
EUROPE: KRUSE KONTROL AMPLIFICATION has an authorized service center in Germany for all European customers.
THE FOREGOING CONSTITUTES THE ONLY WARRANTY MADE BY KRUSE KONTROL AMPLIFICATION WITH RESPECT TO THE PRODUCTS AND IS MADE EXPRESSLY IN LIEU OF ALL OTHER WARRANTIES EXPRESS OR IMPLIED. Any implied warranties, including without limitation, any implied warranties of merchantability or fitness for any particular purpose, imposed under state law are limited to the duration of this limited warranty. Some states do not allow limitations on how long an implied warranty lasts, so the above limitations may not be applicable to you.
KRUSE KONTROL AMPLIFICATION ASSUMES NO LIABILITY FOR PROPERTY DAMAGE RESULTING FROM FAILURE OF THIS PRODUCT NOR ANY LOSS OF INCOME, SATISFACTION, OR DAMAGES ARISING FROM THE LOSS OF USE OF SAME DUE TO DEFECTS OR AVAILABILITY OF SAME DURING SERVICE.